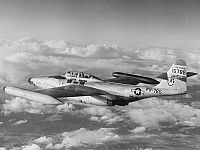 Could a F-89 Scorpion jet that disappeared in 1953 be part of a massive UFO conspiracy?
According to SooToday.com, a dive company in Michigan may have found the remains of the famed f-89 Scorpion jet that disappeared from radar after scrambling to intercept a UFO almost 50 years ago?
The company has a photo of the wreckage on the newspaper's website and also claims it found part of whatever the jet was chasing. Was it part of a UFO or just a tragic accident with a bizarre set of circumstances?
Comments (13)