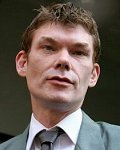 It looks like time is starting to run out for the UFO Hacker.
According to English.Ohmynews.com, England's Gary McKinnon has until July 18 to file an appeal on the extradition papers signed by British Home Secretary John Reid that would send him to America to trial.
McKinnon faces charges of gaining unauthorized access to American data systems by hacking into military and NASA computers. He claims he broke into the systems because he was searching for (and found, according to previous interviews with Wired Magazine and the BBC) evidence of UFOs and the government's secret use of their technologies.